Ticket - DAY OUT WITH THOMAS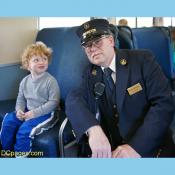 Luke Jr. and the train conductor
Luke Jr. looks up admiringly at the train conductor's finery. B&O Railroad Museum, Baltimore.
Luke Jr. riding a scale model of Thomas the Tank Engine
Thomas the Tank Engine has his origins in a real-life, very old steam locomotive, the E2 Class, designed by Lawson Billinton in 1913. These steam locomotive's are now extinct, and the closest relative is the The Hunslet Engine Company Austerity 0-6-0ST,...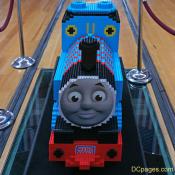 Scale model of Thomas the Tank Engine at B&O Museum
A replica of Thomas the Tank Engine sits in the B&O Railroad Museum in Baltimore. What makes this model unique is it is built entirely of lego-esque "Mega-Bloks."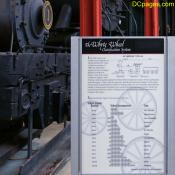 Whyte Classification System for Locomotives
The Whyte notation for classifying steam locomotives by wheel arrangement was devised by Frederick Methvan Whyte and came into use in the early twentieth century encouraged by an editorial in American Engineer and Railroad Journal in December 1900....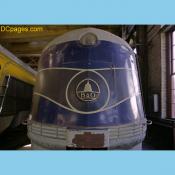 B&O #EA51 - the first Streamlined Diesel Locomotive
The first "streamlined diesel," the Baltimore and Ohio EA 51, first run in 1937, now sits indoors at the B&O Railroad Museum in Baltimore, Maryland. Although there is some debate as to whether this was truly the first streamlined diesel by trainophiles,...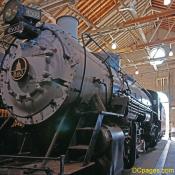 B&O Railroad 4500 Locomotive *
The Baltimore and Ohio Railroad Model 4500 locomotive is a class Q3 Mikado. It was the first locomotive designed by the Unites States Railroad Administration. The first "light 2-8-2" steam locomotive numbered 4500 was ready for service July 4, 1918 for ...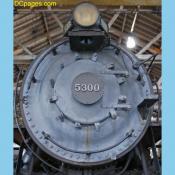 B&O Pacific 4-6-2 5300 steam locomotive
This is one of only two "large" B&O locomotives that survive. 5300 is named "President Washington" (the B&O painted all 20 Pacifics of this class olive green and named them after the first twenty one presidents of the United States.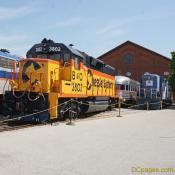 B&O 3802 Locomotive decked out in Chessie System colors
Chessie System B&O GP38 #3802 located at the B&O railroad museum located in the city of Baltimore, Maryland. This GP38 was made famous in 1982 when Trains magazine chose this unit to be the "All American diesel".
Saddle Tank Locomotive - Robert No. 7
Although quite similar to Thomas the Tank Engine, this Robert Number 7 has its water tank as a "saddle tank," painted olive green in this photo, whereas Thomas was based on a locomotive with water tanks on both sides of the boiler, hence the name "side ...