Physicians for Health Care Reform
Two attending physicians, who are members of the National Physicians Alliance came to support the Democrats' plan to overhaul the United States health care system, a tenant shared by many Americans, particularly those without health insurance.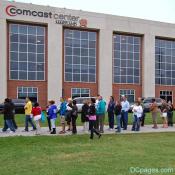 Supporters lined up at Comcast Center, September 17, 2009 *
Students and other supporters of Barack Obama lined up as early as 5 AM to see the President speak at the University of Maryland about health insurance reform at the University of Maryland, College Park, September, 2009.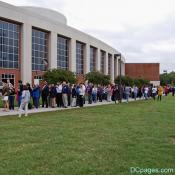 Students and other fans of Obama line up
This is a continuation of the previous photograph showing a fraction of the massive line-up of people waiting in earnest to hear the President speak, watch him, and for a lucky few, shake his hand. 9-17-09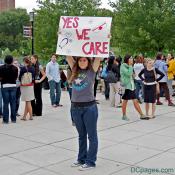 Campus Progress
President Obama has a supporter at the University of Maryland at College Park. This co-ed makes her views well known outside the Comcast Center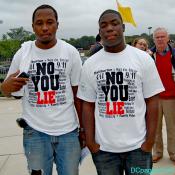 NO, YOU Lie!
Two college students at the University of Maryland, College Park, make their feelings known of Republican power at President Obama's Rally for Health Care, September, 2009.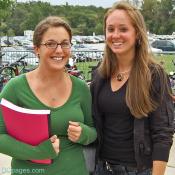 Obama supporters at UMD *
The University of Maryland welcomed president Barack Obama for a rally supporting the President's health care agenda. These two young women were among his thousands of fans in attendance.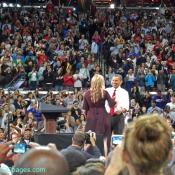 Rachel Peck *
Today (10-9-09), in a surprise announcement, President Barack Obama won the Nobel Peace Prize.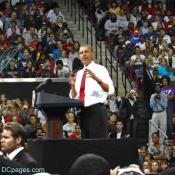 POTUS speaks to college students *
Approximately 17,000 people attended the rally for health care in College Park, Maryland which was given by the current President of the United States. Students were generally very impressed with President Obama's oration skills.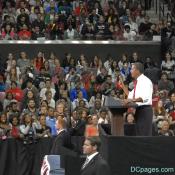 Maryland Rally for Health Care Reform in College Park *
Maryland Rally for Health Care Reform in College Park, the President was the keynote speaker who was very effective at getting the crowd "fired up, ready to go."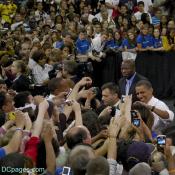 Secret Service did a great job *
It's not my style nor inclination to kow-tow to the United States Secret service, but at the same time I have to give credit where credit is due: on this day, it was a perfect balance of security combined with accessibility for the President's speech at...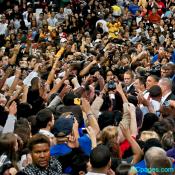 Crowd control *
Regardless of whether you like him or dislike him, Mr. Obama is a very popular President. He tends to polarize people in that if you like him you really like him and if you dislike him you really dislike him. As an impartial...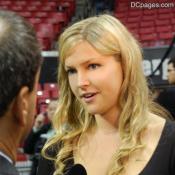 Rachel survived cancer
The president was introduced by Ms. Rachel Peck, a 20-year-old junior at UMD, who spoke of her diagnosis of thyroid cancer and the continuing treatments that she will require after leaving the University of Maryland. Unless Congress approves his plan to...