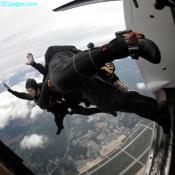 "The Golden Knights have left the aircraft."
See you on the ground ...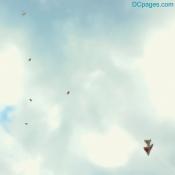 U.S. Army's Golden Knights Parachute Team descending on Andrew's AFB, Maryland
High in the sky over Maryland, the U.S. Army's precision parachuting team a.k.a("The Golden Knights")descend on a crowd of tens of thousands of spectators at Andrew's Air Force Base, Maryland during the Joint Service Open House.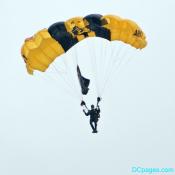 Golden Knights' History:
The STRAC or Strategic Army Corps Sport Parachute Team, which was originally conceptualized by Brigadier General Joseph Stilwell. The original STRAC team consisted of 13 military parachutists. This unofficial unit competed successfully in parachute...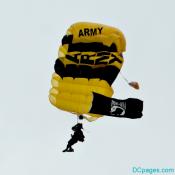 Golden Knights parachutist displaying POW-MIA flag during descent
The Golden Knights are the best of the best: hand picked paratroopers from the United States Army's Airborne Division, a paratrooper's usual tenure with the Golden Knights lasts three years.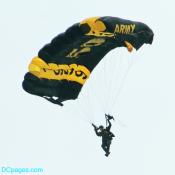 Inverted colors for Golden Knights' 50th Anniversary.
This paratroopers' parachute reads "1959 2009 50th" and it's colors are the reverse of the other Golden Knights' chutes. For those wishing to become one of the few, the Golden Knights hold an annual tryout and selection program by which qualified Army...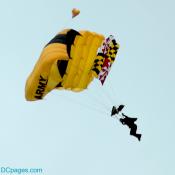 One of the Golden Knights soaring with the Maryland flag; Andrew's AFB, Maryland
At a rather steep "angle of attack" this United States Army parachuter displays the Maryland State flag which, coincedentally, sports the same colors as the Golden Knights: black and gold. As seen during the Joint Service Open House (Air Show)over...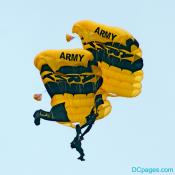 The Golden Knights are consummate professionals; experts in fact.
When they are not jumping, these nascent Golden Knights learn the team's history, memorize over 13 pages of show narration verbatim, and also receive public affairs and public speaking orientations. At the culmination of this process, the remaining...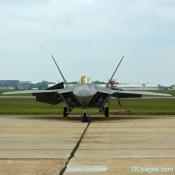 Straight-on view of the Lockheed Martin/Boeing F-22 Raptor, bad guys: you have been warned.
Interesting combination of beautiful and scary, the Lockheed Martin/Boeing F-22 Raptor is a fifth-generation fighter aircraft that uses stealth technology. It was designed primarily as an air superiority fighter, but has additional capabilities that...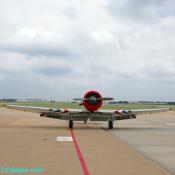 DSC00236