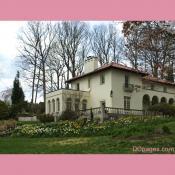 Palatial terra-cotta
Here's a great example of why home prices are so high in luxurious Kenwood, Maryland - aside from being three minutes to D.C.- this terra-cotta and plaster house also has a clay/terra-cotta-mix roof.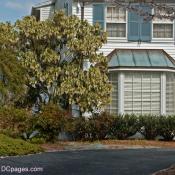 Striking example of "Lilly of the Valley" tree
This is the finest example I have seen of this genus tree. The Lilly of the Valley has large clusters of flowers hanging off it resembling ripe grapes hanging from a vine. Also note the green-oxidized copper roof atop the bay window.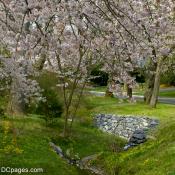 Serenity in Kenwood
The secret is almost out. Kenwood is the perfect place for a first date to take a scenic walk or have a picnic. Some couples even get married on the neighborhood circle when the cherry blossoms are in bloom because it's such a gorgeous setting.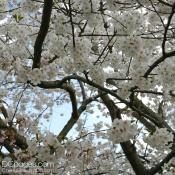 Fantastic Yoshino cherry blossom clusters
This is a powerhouse example of a cherry blossom tree in Bethesda, Maryland. A vast majority of the 1200 cherry trees in the neighborhood of Kenwood are over 80 years old.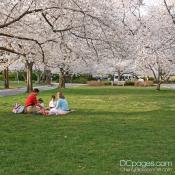 Picnicking in Kenwood
A family of four enjoys the delightful spring-like weather of near by Washington, DC in the Kenwood neighborhood of Bethesda, Maryland. For 2012, the Yoshino Cherry Trees are blooming about 2 weeks early.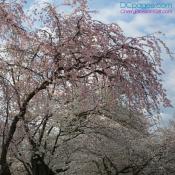 Cherry blossoms in full bloom
A beautiful contrast of colors, these pink and white cherry trees create a wonderful canopy in the Kenwood neighborhood of Bethesda, Maryland, about 3 minutes outside of Washington, DC.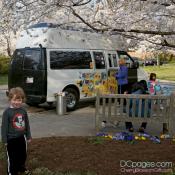 Perfect time for an ice cream break
Even the ice cream man loves to witness these beautiful cherry trees. Nothing is more refreshing during a stroll through this neighborhood than viewing these magnificent white and pink cherry blossoms than your favorite ice cream bar.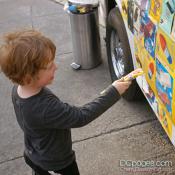 Decisions decisions ...
Mr. Luke Jr. contemplates the baker boy's menu thinking perhaps he would do better with two treats rather than the standard, single treat. Kenwood, Bethesda, Md.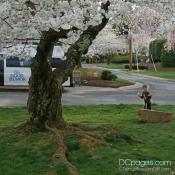 Lukey laughing under a cherry blossom tree
About to enjoy the fruits of his negotiating skills, Lukey frolics under one of the 1200 Yoshino cherry trees planted in 1929 in the Bethesda, Maryland neighborhood of Kenwood.