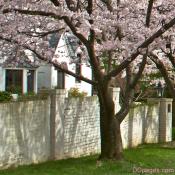 Old School Cherry Blossom Tree *
This Kenwood cherry tree grows juxtaposed to the solid (not a facade) brick wall outside of what surely is a beautiful home. Avoid hitting cherry trees - it could save your life.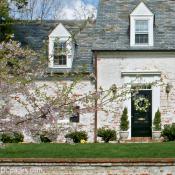 Charming House in Bethesda
This charmer was most likely built in the 1920's and what is particularly stunning is the way the slate-shingled roof has patinaed over the many decades.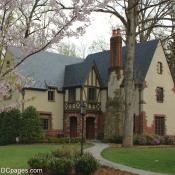 Understated Kenwood Elegance
There are so many nice things about this suburban Washington, D.C. home you really just need to click on the photo to see it full size, and then study it. It's nice. Trust me.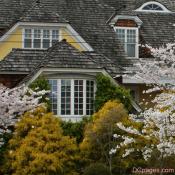 Kenwood house: grand architecture.
The front of this house is a masterpiece with it's stepped-gambrel roofing. Note "skylight" in upper right of photo. Too, this is one of the few homes in Kenwood with cedar shingles rather than slate.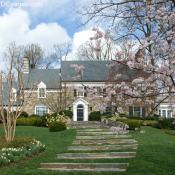 Ethereal Stone house in the D.C. suburbs
Aside from the magnificent cherry blossom trees in this yard, you can also see the seven foot-wide stone stairs leading up to this paradise of a home. Kenwood, Maryland.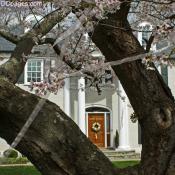 Colonial Kenwood home
Montgomery County, Maryland's Kenwood neighborhood has always had a mystique around her. Kenwood is an amazing neighborhood to visit for the cherry blossoms, however, it is a year 'round destination for lovers of architecture. Note pink ribbon tied around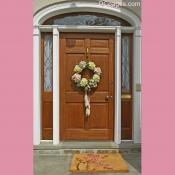 "Kenwoodians" take great pride in their homes
The residents of Kenwood are proud of what they have been blessed with. Said one resident: "When you move into Kenwood, you become a part of the trees."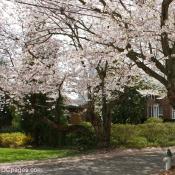 Every dog's fantasy
A lovely Spring day, breezy, shaded by a complete covering of cherry blossom trees - and then he spots it: the fire hydrant beckons him.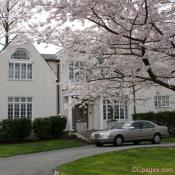 White house, pink blossoms *
I have not practiced due diligence in my studying of Kenwood's demographics, but I'll still bet not many people there are in poverty.